Don't panic if your hard drive gets corrupted due to a file system error or your hard drive becomes raw; we are here to help. This guide provides detailed steps for corrupted Hard drive repair without losing data. Hard drives are prone to failure; if they fail, they inspect for a long time. Hard drive failures are almost always repairable, except in rare cases where they would be completely broken. Hard drives go by many names depending on the user—all these terms directly to the hard disk, including the version hard disk drive.
Well, an internal HDD hard drive or hard disk drive is not the only hard drive that exists. They either differ in size and storage capacity or design. Hard drives can sometimes face problems. This article will lead you to how to repair a hard drive and recover data from the hard drive.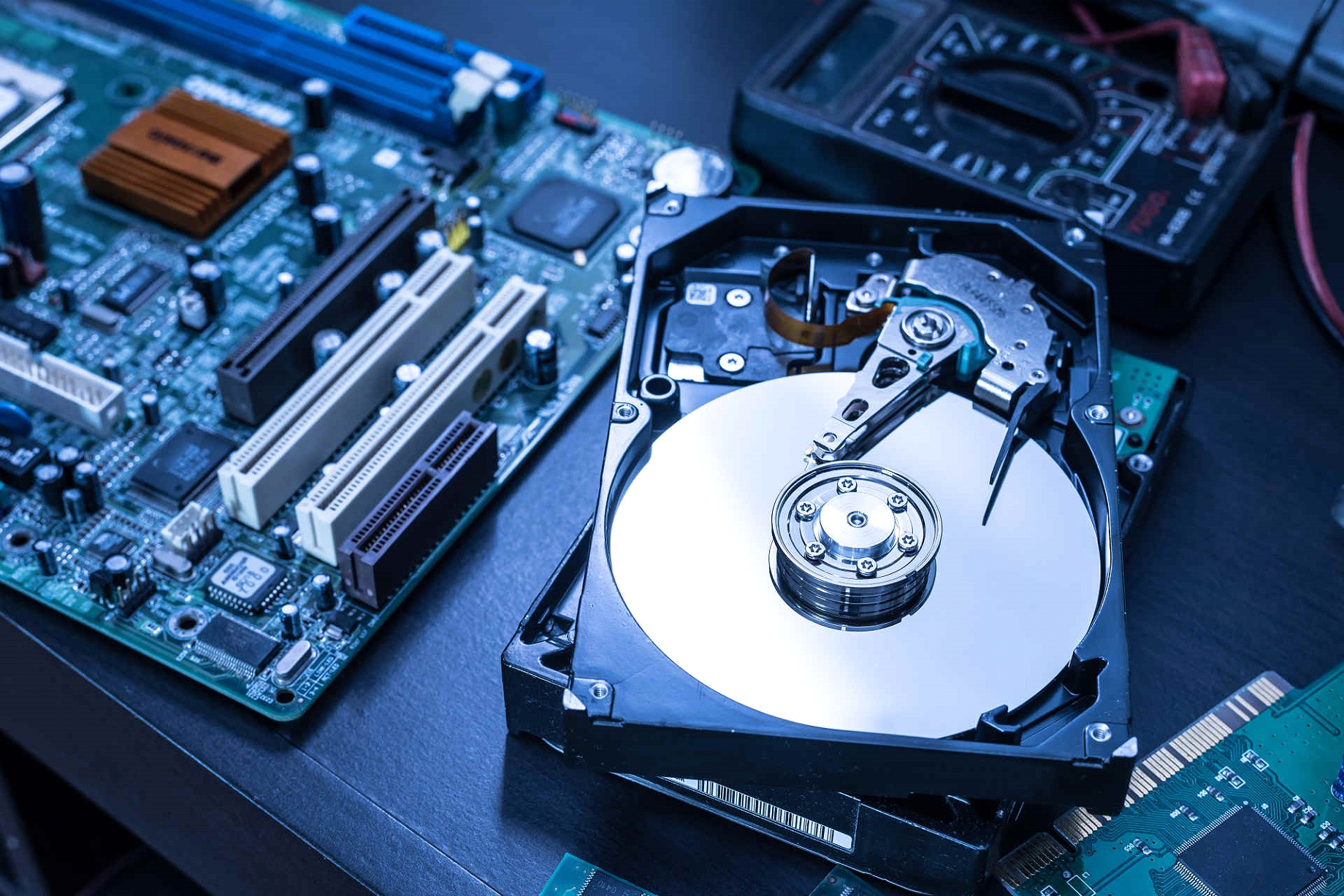 What causes hard disk corruption?
Some causes of hard disk corruption include:
⦁ File system error
⦁ Read/write issues
⦁ Software bug
⦁ Viral attack
⦁ MBR on disk is corrupted
⦁ Bad sectors on the hard disk
⦁ Poor operating environment
⦁ Power and Connectivity
⦁ Physical injury
Now that you know the cause, let's proceed with how to fix the hard drive?
Visually confirm:
It may not be the drive, but the PC board (under the drive) controls its operation. If there is a power surge or component failure on this board, the drive will not work because you do not know what to do next. Pc hard drive repair is a little confusing because you must observe the board with your disk here.
⦁ Examine for signs of deterioration, such as burns and burnt marks. If you find this, you can breathe a little sigh of relief. It is because it is likely to be the cause, and, in many cases, this is a relatively easy problem to fix.
⦁ If you like to replace the PCB, search Google for replacement parts for the drive manufacturer and model.
⦁ Once it arrives, delete the old boards.
⦁ Glide out the old drive and substitute it with the new one. Static electricity can blow the new board off before it can blow new life into the drive. You can ground yourself by wearing an antistatic wristband or touching a grounded metal object. The inside of the connected computer usually works.
⦁ Insert the new board, make sure it is securely fastened to the drive, and then reinstall the screws.
⦁ Reconnect the drive to your computer and power it back on. Congratulations if it works. We recommend that you back up your data at this point.
Reinstall the driver for one's hard drive
If your computer cannot read an external hard drive, you can connect it to a different PC to see if it reads the drive and if it works. If it works, you can do the external hard drive repair by reinstalling the device driver on your computer. Here are the detailed steps to reinstall the hard drive drivers.
Step 1: Windows 10 Enter Device Manager in the Cortana search box and click on the best one to open Device Manager.
Step 2: Locate Disk drives and double-click them.
Step 3: You will see all the disks on your computer. Uninstall the drive by right-clicking on the failed hard disk and clicking Uninstall Device.
Step 4: Restart your computer and connect your hard disk. In most cases, the driver will automatically start the installation.
You can check if it can read the external hard disk after the reboot. If this solution doesn't work, try the following:
Hard drive repair Sydney:
Hard drive repair Sydney has recovered more than 4,000 clients across Sydney and Brisbane, Melbourne, Adelaide, Canberra and Perth. You can recover data from almost any storage device. They use the world's most advanced data recovery technology to give our customers the highest possible success rate.
It is often a one-time chance to recover data from a failed storage device. Whether it's a hardware or device failure, a natural disaster, or a minor disaster in your life, they can help you recover the valuable information you need and trust. And 100% risk-free. Free diagnosis, no data, no charge.
Windows Startup Disk Repair
Windows Startup Repair can also repair some hard disk errors in Windows 10/8/7. Windows Startup Repair requires a Windows recovery/repair disk. If you don't have one, first see how to create a recovery USB/repair disk in Windows.
⦁ Plug the bootable USB drive into your computer and boot the Windows 10 PC.
⦁ You can usually enter the boot menu by pressing F12. Next, press the Up/Down key on your keyboard to select a bootable USB drive or system repair disk and press Enter key.
⦁ In the Windows configuration screen, tap Repair on your PC. Click Troubleshooting → Advanced Options → Repair Startup.
⦁ After that, you can inspect if your PC is booting up correctly, and you can access hard disk data.
Hard drive repair Melbourne
Melbourne hard drives Repair more than 3000+ clients across Melbourne as well as Sydney, Brisbane, Adelaide, Canberra and Perth. They can restore data from almost all storage devices such as HDD, SSD and other memory devices. They use the world's most advanced data recovery technology to give our customers the highest possible success rate. They offer free diagnosis and promise no data and no charge.
Disk Boot Failure
Repairing disk errors, such as disk boot failures, requires expertise and experience. Disk boot failures can occur for several reasons. It may be a little difficult to fix this problem, but here are some causes and solutions.
First, check your system's bios and reset to the default settings. Then start the device and see if the error recurs. In this case, even if the error is corrected, you will have to wait and see if the error recurs. The second way, if the error persists, is to check the cabling on the PC or use a different cable. Specifically, check for IDE cables and other cables. You can also power off the device completely, reset the cable, and use another IDE cable if present to see if the error persists.
The third option is to check the disk for errors and perform a hard disk health check. It helps to check the health of your hard drive to see if there is any error or if the problem is due to hard drive failure.
Best Hard Disk Repair Software
Now that you know the cause of hard drive failure, we have a list of the best disk repair software tools to analyze, avoid, and solve all common hard drive problems. If you experience an external hard drive that doesn't appear, our professional data recovery engineers can help. I see dozens of hard drive scenarios every week.
Disk Drill - The Best Overall Hard Drive Repair Software
It was easy to choose the best hard disk drive repair software. Disk Drill is the most modern data recovery suite on the market, both in terms of its design and functionality. Disk Drill allows you to recover over 200 file formats from any storage device without professional skills. The advantage of Disk Drill is that it can restore data with one click from the broken hard drive. Tap the Recover button, and Disk Drill will manage the rest automatically.
Besides its ability to restore any file format, Disk Drill has free tools like disk monitoring, hard disk cleanup, data protection, data backup, etc., so you can solve any hard disk repair scenario. If you don't have time to learn more than one hard disk repair software tool, you can download Disk Drill to ensure you have everything you need before using it confidently.
Paragon Partition Manager
Paragon Partition Manager is aiming for an all-in-one tool for a hard disk health checkups and disk management. It has all the features of Windows's disk management tools, including additional functions such as checking and repairing file systems, editing sectors, creating boot disks and migrating the OS.
In addition, it looks pretty good. But a free or workstation license is sufficient if not for business use. Paragon Partition Manager is the best software if you are looking for a partition repair tool or management solution.
How to Recover Lost Files?
Hard disk data recovery is a task that experts should do. This task is carried out in a clean room to ensure that impurities such as dirt do not come to the hard drive during the repair process. Other methods are to repair SSD or HDD or to fix the external hard drive, whether to refer to it, can be used to repair the hard drive, it is all called to fix the hard drive, one can also repair drive Windows 10. Something to note is that one might need to know what a hard drive is? As well as how it works.
Thus, to put it clearly and easily, hard drive data recovery is the process of getting back data lost from a hard drive due to unfortunate circumstances like crashes, data corruption, or hard drive failure. It is feasible to fetch back this data. Professional Experts help you in the best way to recover data from your drive.
Our Tops brands hard drive solutions.
Seagate hard drive repair
In the lab, we see many Seagate external hard drives that need to be repaired. You can use our services if you want someone to repair your Seagate external hard drive. If a drive stops working with clicks or beeps, our experienced engineers can repair it so you can access all the stored data again.
Toshiba Hard Disk Repair
Wet, fire, drive drops, all Repair. Experienced engineers are available. Experienced engineers can do Repair Toshiba hard drives.
SanDisk Samsung WD
These are also top brands of hard drives which have so much potential in the market. Repairing their hard drive is also so critical. Our experts having years of experience, can recover them. In our labs, we have a lot such hard recovery always. If you have any of these brands, you can ask our team to help you.
Verdict
Hard disk drives (HDDs), hard disks, hard drives, or fixed disks are electromechanical data storage devices that use magnetic storage to store and retrieve digital data using high-speed rotary plates coated with magnetic material. A faulty hard drive slows exhibit and costs time and money. Our company provides you twenty-four hours a day, seven days a week, Emergency Hardware Repair Service for fast response and recovery time. We are providing solutions for the moment your system fails.
Our experts can repair damaged hard disks in electronic devices within a few days, including damage to read/write heads and spindle fixation. It can also recover data from hard disks damaged by floods and fires. With the 24x7 emergency repair option, you can get a complete copy of your hard drive data within 48 hours in most situations. We also offer a free diagnostic service so that you can tell the price and delivery date without risk. And here is the form to ease getting in touch with our experts.