In today's fast-paced digital world, our dependence on technology is unprecedented. From personal communication to professional endeavours, computers have become an integral part of our daily lives. However, when technical glitches occur, it can become a major hurdle. In such cases, the services of in-house computer technicians are invaluable. These professionals provide a unique and effective solution, revolutionizing traditional tech support Computer Repairs in Melbourne.
Personal attention and tailored solutions
One of the primary benefits of choosing in-house computer technicians is the personal attention they offer. Unlike traditional repair shops or remote support, having a technician visit your home allows for a thorough evaluation of the technical problem. The technician can directly observe the environment in which the computer operates, gaining insight that is critical to identifying the root cause of the problem. This personal touch enables them to tailor solutions that fit your specific needs.
Seamless integration with your home setup
When a computer technician visits your home for desktop computer repair services, he can seamlessly integrate his solution with your existing home setup. This integration ensures that improvements and upgrades are tailored to your preferences and requirements. It's like having a personal IT consultant who not only solves the immediate problem but also optimizes your system for better performance, taking into account your unique usage patterns. Laptop fixer near me at the smart geeks 2 U.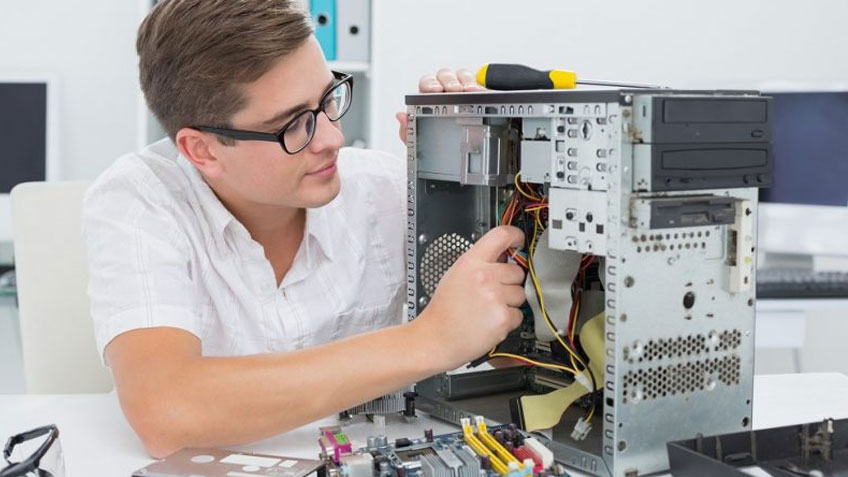 Comprehensive troubleshooting and problem solving
The benefit of having an in-house computer technician is the ability to perform comprehensive troubleshooting. These experts have a deep understanding of hardware and software components, which allows them to identify even the most complex problems. By conducting a thorough diagnosis, they can pinpoint the problem and recommend effective solutions, ensuring that your tech concerns are resolved quickly. PC Repairs Melbourne at the smart geeks.
Educating consumers for better digital literacy
Apart from troubleshooting technical glitches, desktop computer repair at home play a vital role in enhancing the digital literacy of users. During their visit, they take the time to explain the problem and its solution in a clear and understandable manner. This educational aspect empowers users to handle small problems themselves and develop a better understanding of how their computer works, promoting digital self-sufficiency.
Cost effective and time saving solutions
Contrary to popular belief, choosing in-house computer technicians can be cost-effective. When you consider the costs associated with taking your computer to a repair shop or the time spent waiting for remote support, the convenience of a home visit is unmatched. Additionally, technicians' ability to effectively diagnose and resolve problems can save both time and money in the long run.
Building trust and long-term relationships
Building trust and developing long-term relationships with clients are key principles for in-house computer technicians. Their professionalism, and personalized approach instills a sense of trust and confidence in customers. Clients often prefer a trusted technician who understands their unique needs and provides consistent, reliable service, making them the best choice for any future tech support.
Experience the difference with Smart Geeks
Finally, choosing SmartGeeks' home visit computer technicians can significantly enhance your tech support experience. Personal attention, seamless integration, comprehensive troubleshooting, educational value, cost-effectiveness, and trust-building aspects set them apart from traditional tech support options. Experience a revolution in technical support by choosing in-house computer technicians from Smart Geeks.
Why Choose Us

Our Partner